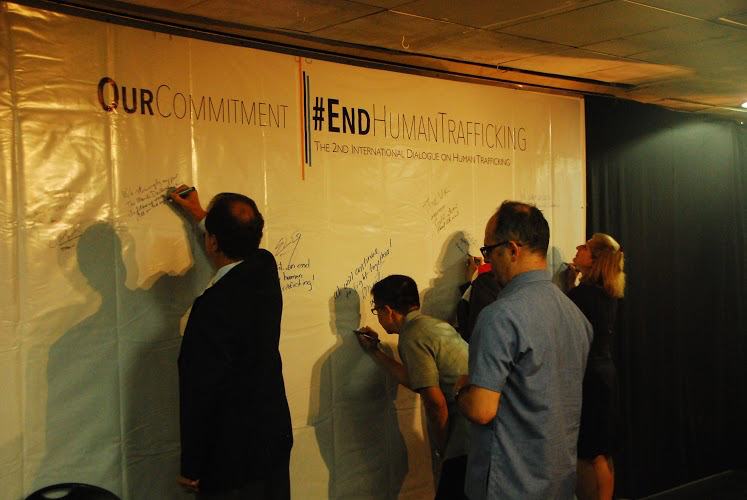 Delegates write their pledges to aid in the effort to end human trafficking at the Second International Dialogue on Human Trafficking, Asian Institute of Management, Manila, June 2016.                                                HDPRC Comms
Despite its limited resources, the Philippines is now counted among the countries with "the strongest responses" to the crisis of human trafficking. The 2016 Global Slavery Index surveying multinational slavery statistics, and the steps governments take to address them, commends the anti-trafficking measures we have put into place.
Our achievements were recently acknowledged at the Second International Dialogue on Human Trafficking. Held earlier this month, the conference was organized by the Inter-Agency Council Against Trafficking (IACAT) and the Visayan Forum Foundation, with the support of the Embassy of the Kingdom of the Netherlands. Foreign missions, government representatives, and civil society came together, reaffirming their commitment to fight human trafficking in all its forms—zeroing in on progress affecting seafarers and fisherfolk, domestic and tourist workers, and children subject to online sexual exploitation.
Without question, the outgoing administration has made unprecedented strides towards addressing human trafficking. But there is little doubt that serious structural problems remain.
The 2016 Global Slavery Index reports that 401,000 Filipino are victims of modern slavery—an absolute number that remains high. The numbers of trafficked victims are inseparably tied to the burgeoning Philippine diaspora. In 2013, the Commission on Filipinos Overseas estimated that more than 10 million Filipinos resided and worked abroad, giving us one of the world's largest migratory populations. While OFW remittances are a driving force of our national economy, their expatriation also makes them vulnerable to exploitation.
Labor and sexual trafficking are among the most pressing concerns. In 2015, the US State Department reported that many Filipinos were subjected to sex trafficking and forced labor—including debt bondage—in a wide range of industries, from fishing and agriculture, to domestic work and janitorial service, to education and nursing. Victims are found throughout the Middle East, Asia, Europe, and North America.
Last year alone, Philippine Statistics Authority numbers showed more female than male OFWs—51.1 percent of the total being female. Significantly, these women are generally younger than the men. And more than half (55 percent) are laborers and unskilled workers—worrisome, since they are particularly vulnerable to various abuses, from forced prostitution to sexual tourism. A particularly disturbing fact is that many human traffickers are women—many of them mothers—posing as recruiters.
Responding to the United Nations' call to address human trafficking, the government created IACAT in 2003. Mandated to lead the country's anti-trafficking measures, the council includes various public officials, civil society representatives, and other stakeholders. During the Aquino administration, the body devised a Strategic Plan for 2012 to 2016, aimed at four key areas: advocacy and prevention; protection, recovery, rehabilitation, and reintegration; prosecution and law enforcement; and partnership and networking. While IACAT's Strategic Plan was a pioneering effort, it has never been fully implemented.
The government has stressed enforcement, increasing the number of anti-trafficking task forces in airports and creating regional task forces consisting of prosecutors, law enforcement agents, social workers and NGOs in trafficking hotspots. And for protection, recovery, rehabilitation, and reintegration, the Department of Social Welfare and Development (DSWD) has provided 4,103 trafficking victims with assistance from 2015 to the first quarter of 2016 alone. Such assistance has ranged from temporary shelter and psychosocial counseling to livelihood support, financial assistance, skills training, educational assistance, and medical assistance. But it is in the area of prosecution that some real gains have been made. In the last five and a half years, 226 persons have been convicted—a remarkable increase from the paltry 30 cases pursued by previous administrations for the last nine years.
However, IACAT's efforts remain stunted. There are at least two reasons for its ineffectiveness during the Aquino administration. One was the political rift between the "Samar" faction —presided over by Vice President Jejomar Binay—and the "Balay" faction allied with Mar Roxas. Each faction held separate meetings with a different set of officials from each government agency, diluting institutional memory. The second reason was that the Department of Justice lawyers tended to be dismissive of non-lawyers within IACAT. These political and professional rifts led to the weakening of the inter-agency body as a whole.
Another obstacle to addressing human trafficking was IACAT's fixation on prosecution at the expense of advocacy, prevention, protection and partnerships.
The DOJ, for example, received P90 million budget for anti-trafficking, while DSWD received only a fraction of funds—despite it being the lead agency for protection, recovery, rehabilitation, and reintegration.
At the same time, no funds were allocated for advocacy and communication, rendering it IACAT's weakest pillar. Malacañang, in the meantime, tended to report quantifiable progress on the level of prosecution—arrest, raids and convictions—rather than focusing on prevention.
In Singapore, by way of comparison, funds allotted specifically for communications increased public awareness of human trafficking, actively involving the public in trafficking prevention. Here, though our Department on Interior and Local Government was given the lead for information dissemination, it failed to produce any targeted messaging campaigns. The anti-trafficking education programs that do exist are independently implemented and have yet to be assessed for effectiveness.
During the dialogue, there was also the misguided notion about where awareness should primarily be built. For example, coursing anti-trafficking messages through the Commission on Higher Education and the Department of Education remains problematic, since those most vulnerable to trafficking are precisely those you would not find in the classroom. Instead, we should have prioritized a grassroots approach to prevention campaigns, tapping local government units to facilitate briefings and consultations in barangays.
Additionally, information dissemination through media needs re-evaluation. For reaching this target demographic, which often does not have access to TV or internet, radio in vernacular languages—though one of the more expensive mediums—is vital.
Building on the holistic approach to tackling prevention also requires adjusting restrictions on Technical Education and Skills Development Authority (TESDA) programs to accommodate those without high school education. Victims of trafficking—along with victims of war, abuse, domestic violence and other such heinous crimes—generally do not have high school degrees, but the acquisition of new skills can reduce probabilities of their being abused here or abroad.
In the annual United States Trafficking in Persons Report, the Philippines is ranked a Tier Two country—granted to governments taking "significant steps" toward full compliance with the Trafficking Victims Protection Act. However, one wonders whether this practice of stressing prosecution over prevention is done primarily to meet the criteria set by the U.S. government. The numbers of prosecutions become the privileged index for maintaining our standing in the report. Slipping in the Trafficking in Persons Report rankings risks reducing the amount of aid and trade we receive from the U.S. Whatever the motivation, we must be careful not to veer toward a war on the poor, in which people are put to jail—even when innocent—for the sake of keeping prosecution numbers up.
A key obstacle to dealing with trafficking has been the prevailing culture of impunity among government officials, especially in our Embassies. Embassy officials are charged with helping abused OFWs, and most of them do decent work. However, there have also been systemic problems. The most glaring examples of this culture of impunity were the cases of trafficking in the Kingdom of Saudi Arabia and Kuwait involving Philippine Embassy and Labor officials. In the wake of revelations during several Congressional hearings of cases involving sex-for-flight, as well as labor and sexual abuse of rescued victims by Embassy officials who were supposed to care for them, only one official was actually charged. But, in the end, he was only charged with administrative neglect rather than a criminal offense.
Worse, the complaints of trafficking victims against other Embassy officials were dismissed at the preliminary investigation stage—reportedly because of lack of evidence. Why wasn't the direct testimony of multiple victims enough to hold these officials liable? What message do we send the victims when we allow those who neglected—let alone abused them—to not only get away, but remain in power?
Another serious stumbling block has been the willful neglect of available data. The International Dialogue on Human Trafficking repeatedly stressed the need for knowledge building, yet existing information on anti-trafficking measures—such as the extensive mapping of trafficking hotspots my office turned over to IACAT—have yet to be put to meaningful use.
There are certainly no simple solutions to a problem as complex as human trafficking. However, they are only exacerbated when countermeasures are marred by political infighting and official impunity. These are further aggravated when efforts at prevention, communication and partnerships are set aside, while prosecution enjoys high-level support. So long as such structural problems persist, trafficking will only continue to proliferate.
Posted on 06/13/2016 9:00 AM from: