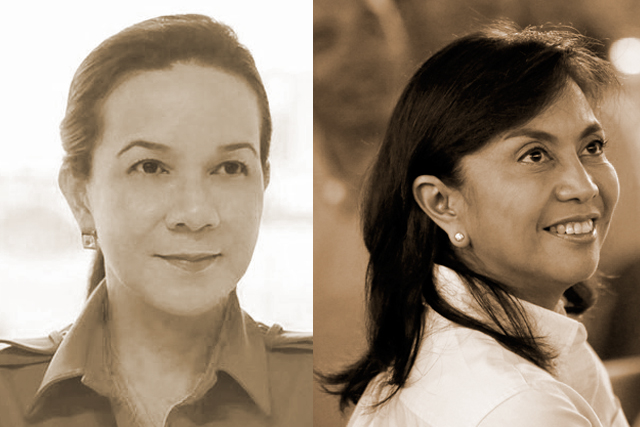 Grace Poe is running for president, while Leni Robredo is seeking the vice presidency.    Philstar.com/File photos
Today's presidential front-runner has astonished the world with his blatant disregard for women's rights. But rather than being bullied into retreat, women leaders are now willing to stand up and fight. After all, in this country, female voters outnumber male voters by as many as 1.7 million votes.
In terms of gender empowerment, best-case scenarios would include the election of either Grace Poe or Mar Roxas for the presidency, and Leni Robredo for the vice presidency. Even as the candidates cling to their announced affiliations—Grace with running mate Chiz Escudero and Leni as vice president of Mar Roxas—we Filipinos, especially women, can root for our own.
Based on platforms, if Poe wins, we would expect her to push for improvements in women's education and healthcare, and to act against gender discrimination of all kinds, as embodied in her impressive women's platform. And should Davao City Mayor Rodrigo Duterte win, having Leni Robredo—a lawyer and social activist who has had considerable grassroots immersion—as VP, could lead to her countering his strong man tendencies; the "malasakit" (compassion) to his "tapang" (courage).
The Davao Mayor, not particularly popular among feminists in general, has raised the ire of women's rights protesters, who blocked traffic along Quezon City's Timog Avenue last May 5 to show their distaste for Duterte and vice presidential front-runner Bongbong Marcos. The protesters scored what they perceived to be Duterte's misogynist pronouncements and Bongbong's candidacy, rooted in the "corrupt and dictatorial legacy" of his father, dictator Ferdinand Marcos. Their message: Don't vote for those who violate human rights, especially those of women.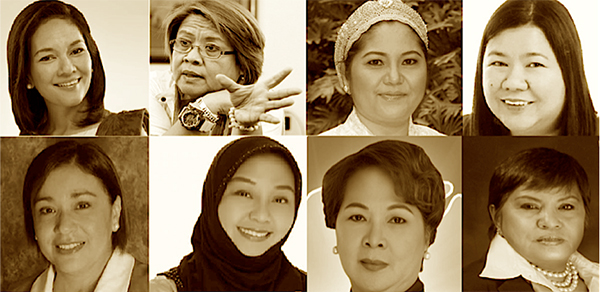 The eight women "senatoriables" (clockwise, from top left) Risa Hontiveros, Leila de Lima, Ina Ambolodto, Susan Ople, Alma Moreno Princess Jacel Kiram, Sandra Cam and Lorna Kapunan.               Sources: Philstar.com and campaign materials
Winning elections remains a challenge for women politicians. Aside from the prohibitive costs, despite rules against extravagant expenditures, female politicians must also deal with the obstacles inherent in patronage politics dominated by their male candidates. Consider this: in the 2016 elections, in a field of five, Senators Grace Poe and non-starter Miriam Defensor Santiago, are the only two women running for the presidency. Camarines Sur representative Leni Robredo is the sole female vice presidential candidate and, of the 50 "senatoriables," there are only eight women. Even then, only two—Risa Hontiveros and Leila de Lima—are expected to have a good chance of winning.
Of course, there has been some progress in recent years. We've made strides in women's empowerment, for instance, with the passage of the Magna Carta for Women and the Reproductive Health Law. Indeed, the World Economic Forum (WEF) gender equality report for 2015 ranks the Philippines first in Asia and the Pacific, and seventh overall (out of 144 nations) in the world. Yet the voices of female politicians are lacking, as indicated by the fact that we rank very low for women's political empowerment.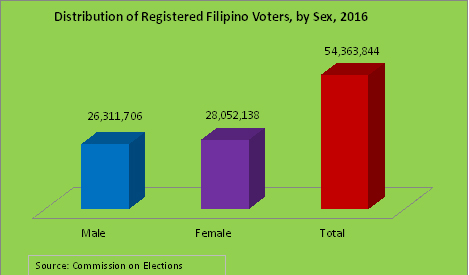 Hence the urgent need to vote for more good women, not only to expand our gains in gender equality, but also to ensure the implementation and protection of the gains already won.
There is much to protect. As WEF founder and executive chairman Klaus Schwab has said, "People and their talents are among the core drivers of sustainable, long-term economic growth. If half of these talents are underdeveloped or underutilized, growth and sustainability will be compromised. Moreover, there is a compelling and fundamental case for empowering women: women represent one half of the global population—they deserve equal access to health, education, earning power and political representation. The current inequalities risk being exacerbated in the future."
Likewise, the Intelligence Unit of The Economist magazine reported this week: "Long the 'sick man of Asia,' the Philippines has made slow and steady improvements in infrastructure, the regulatory environment and in reducing corruption. These improvements have led to a steady uptick in most economic indicators. Most notable is the boom in investment, which has increased by over 10 percent in three of the last four years." Simon Baptist, the unit's Chief Economist, projected that, by 2030, the Philippines could move into a position just below the Netherlands—moving up from being the world's 33rd biggest economy to the 21st. For economic gains to mean anything, however, they must be shared out inclusively.
Our wage equality is impressive. We rank tenth in the world, with the wage gap 80 percent closed—putting us at the top of the list of Lower-Middle Income countries (average per capita income of $1,046-$4,125). But WEF figures show us doing poorly at labor force participation. In fact, we're ranked in the bottom third at 107 out of 144.
There is, however, a very real glass ceiling in women's advancement in both business and government. While income and managerial equality is presently quite good, women CEOs and board member numbers are low. Likewise, though we've had women presidents, 16 out of the last 50 years (making us number 5 in the world), women in ministerial positions sadly lag, with the WEF gender gap measured at a low 25 percent (ranking us number 62 in the world). Heads of ministries, cabinet secretaries, chairs of government commissions and such, have an enormous influence on the delivery of government services. Male presidents—and the male advisors of women presidents—have a long history of favoring their old school chums and political supporters for such positions. That is an area in need of real change.
As past elections have shown, men clearly dominate the political scene. There are presently only six women in the Senate—and that is the highest number in Philippine history. In the House of Representatives—excluding the party-list representatives—there are only 60 women out of the 234 representatives. Data culled by Interaksyon.com from the 2013 national elections shows that, of the country's 80 governors, only 15 are women and that, of the nation's 1,622 mayors, 80 percent are male, while only 20 percent are female. These figures speak volumes, especially on the part of the need to better represent Filipino women in governance.
In a forum at the Ateneo de Manila in 2015, COMELEC Commissioner Rowena Guanzon lamented the gender gap in government, saying that women make up only 27 percent of our current elected officials, while that figure should be closer to 30 percent to 40 percent. Meanwhile, Senate Committee on Women, Gender and Family Relations Chair Pia Cayetano points out that the gender gap greatly contributes to the law's bias against women, and is one reason why women's issues and concerns relating to family are so often neglected.
Voting for strong women candidates in today's election can help break these cycles. Former UP Center for Women's Studies director Sylvia Claudio said in 2014 that women make better political leaders because they engage more fully in consensus-building and tend to introduce more legislation. Citing US Pew Research Data, Claudio said that increasing the number of women in governance is one of the most effective strategies for removing the stereotypes that relegate women to the sidelines. In a 2015 Ateneo forum, Senatorial candidate Leila de Lima asserted the need for Filipino women to achieve political and economic power, especially those in the marginalized sector. To which COMELEC's Rowena Guanzon added: "everything that our country wants to achieve, we can achieve more fully if we have greater gender equality."
Though not every presidential candidate seems to give importance to our diplomatic and economic position on the world's stage, there is honestly no way to finance the things we must do to bring our people out of poverty without the economic investment and political goodwill of the rest of the world. At the end of six years' work, that world now perceives us as one of a broad group of countries that has made investments in women's health and education, and that generally sees the returns on this investment in terms of women's economic and political participation. In that sense, we are presently seen as right up there with Nordic countries like the United States, Canada, New Zealand and Australia. We have not, however, fully closed the economic and participation gaps—in particular, with respect to senior positions.
Beyond all that, it is critical that the gains we've already made be implemented, protected and expanded.
For women—and all the men and LGBT's who support them—it is time, this very day, for us to take stock of how we regard women in Filipino politics. I am not saying that we should vote for women because they are "naturally" better leaders, by definition. But I do believe that strong, competent women tend to put passionate care into governance, especially for the marginalized and the poor. As Senate candidate Susan Ople puts it, "in the national conscience, those who deeply understand problems of society are often women."
To paraphrase one of today's most powerful candidates: "may the best woman win."
Posted on 05/09/2016 10:00 AM from:
"Philippine elections 2016: Time to choose more women?" Philstar.com